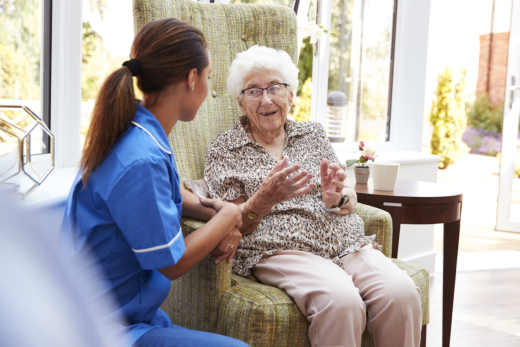 Alzheimer's disease lessens or reduces brain function among those who have it. The disease causes brain cells to deteriorate and eventually die. As a result, people with Alzheimer's tend to undergo changes in their behavior and personality.

This may be one of the reasons why your affected family member is receiving home care services, which is necessary. But how can we manage or deal with people who are suffering from this disease's behavior changes?

As caregivers, we should first keep in mind that we can't stop Alzheimer's-related changes in behavior and personality but we can definitely learn how to cope with them. Our skilled nursing in Texas primarily believes that keeping things simple can help seniors with Alzheimer's disease understand more easily. Caregivers and other home health workers must ask or say one thing at a time.

Helping seniors build a daily routine will also make them know when certain things will happen. In this case, responses and reactions from different experiences throughout the senior's day can be securely met. It's also important to avoid arguing with the affected individual. If you feel frustrated or angry, simply take deep breaths and remember that you are dealing with someone who is in greater need than you.

Alzheimer's disease is a serious medical condition. But we must deal with it with compassion, patience, and understanding. Of course, also know that you are never alone in managing your senior's condition. Reach out to our home health care in San Antonio, Texas.

For more serious behavioral changes like hitting, biting, hallucinations, and depression, be sure to talk with the person's doctor first. For ready assistance, call All Seasons Home Health and Palliative Care! We are prepared to help. We also offer other home health services like physical therapy.